M. Sc. Chengdong Yuan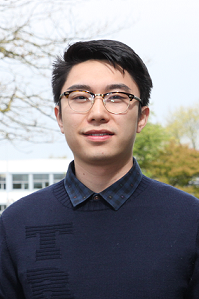 Mr. Yuan joined the International Bachelor Degree program of East China University of Science and Technology and th University of Applied Sciences Lübeck and received his Bachelor Degree in 2014. From 2014 to 2017, he majored in Computational Engineering at the University of Rostock and received his Master Degree with the thesis 'Model Order Reduction and System Simulation of a Machine Tool for Real-Time Compensation of Thermally Induced Deformation' under the supervision of Prof. Dr.–Ing. Tamara Bechtold.
Since April 2017 he is working towards a Ph.D. degree supported by a Jade2Pro scholarship program of Jade University of Applied Sciences in Wilhelmshaven. His research topic is 'Parametric Model Order Reduction of MEMS-based Energy Harvesting Modules'. The work is conducted in cooperation with the University of Rostock.
Forschungsinteressen
Parametric model order reduction
MEMS-based energy harvesting
---
---